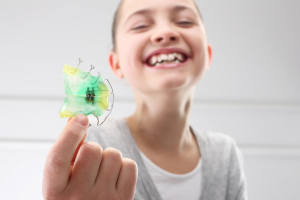 Are your children experiencing any problem that calls for an Orthodontist?

Not all children will need orthodontic treatment but many may experience the problem at an early age and it is  best that the parent should seek early orthodontic intervention.  Your child may experience complications such as difficulty in eating, mouth breathing, misplaced teeth, jaw that is not proportional to the face or a jaw that produces sounds when opened and closed.
If you notice such signs, it is advisable that you seek early treatment to avoid the need for future surgery or even the need of teeth extractions. Here are few guidelines to help you choose the right orthodontist for your beautiful daughter and handsome son.
1.         Should be accompanied by an Orthodontist Therapist
For success of your kids treatment or procedure it will calls for your orthodontist to be accompanied by dental nurses, therapist or treatment coordinators. The team works together in treating your kid and fitting braces to children as well as any other clarity you may need.
2.         The General Dental Council
You should look for a suitable orthodontist who is registered with The American Dental Association and is also an AAO member. You should seek or take your kids to a professional who can promise safety and excellent treatment to your child.
3.         Ask for recommendations
Before choosing an orthodontist, make sure to ask around or even to your friends and relatives about perfect orthodontist suitable for kids. You can as well ask your trusted dentist for recommendations as they are prone to work in close collaborations with orthodontist.
4.         Should be able to provide additional information
During orthodontic treatment there are much information you should know before allowing your child to undergo it. He or she should be able to provide available treatment options and more reasons for recommending them. A perfect orthodontic will always recommend the best for your kids without being biased.
5.         Do a background research
If you have already gotten an orthodontist, go online and try to find him or her. Check about his or her reviews and how often he or she does the work. It is good to know if he or she has ever treated any child before or not and what was the outcome. The standard of work is really advised as it will reflect the treatment and the comfort your child will receive from the orthodontist.
75-05 Parsons Blvd, Flushing NY 11366
 (718) 380-1230  www.mysmilesbraces.com
Dr. Abayav DDS is an acclaimed child orthodontics specialist. He also specializes in Invisalign, Traditional Metal Braces, and Clear Ceramic Braces. Convenient and frequent  appointment times, a state-of-the art medical facility and family oriented customers service has made My Smiles Orthodontics of Queens the choice for braces in the Flushing, Fresh Meadows, Briarwood, Kew Gardens, Hillcrest & Pomonok area.